Save Infected Teeth With Root Canals in Arlington
Root canals in Arlington are the best way to save a tooth that has been damaged by infection and can't be repaired with a dental crown. In addition to restoring the function and appearance of your tooth, a root canal will relieve the pain often caused by infection. There's no need to worry about root canal treatment at our office. You know you're in good hands with: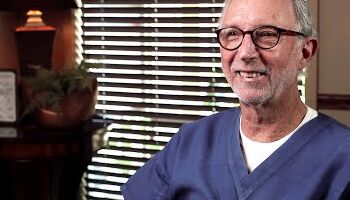 Image Title: Root Canals
Calm quick and pain free treatment
Read Transcript
Calm quick and pain free treatment
We use a root canal procedure to remove the pulp, or the nerve from the tooth, and that's usually where the infection is. Once that infection is removed, then the pain goes away, and the canal is filled with an inert material after it's cleaned out and sterilized, and the patient can keep the tooth and go about their normal day.
In the old days and otherwise when I was young, root canals usually required three appointments or more. Just the average root canal would require three appointments, and now we do most of them in one appointment, not nearly as much discomfort involved for the patient. We have better anesthesia today and things work faster, and so they've got a one-appointment root canal, and then they're out of here.
Dentists who have performed countless root canal procedures
Two forms of soothing dental sedation, so you can stay relaxed throughout your treatment
Leading-edge technology like a CT scan, which our dentists use to plan and perform your procedure
A team who takes the time to answer all your questions and address any concerns
If you have a toothache or another symptom of infection, call us ASAP at 817-275-4817. If you're in pain, we'll do our best to offer you a same-day appointment. We have a dentist on call after hours to address emergencies.
Keeping Your Tooth Intact Is Good For Your Dental Health
It's important to fix cavities and damage like cracks and breaks in teeth as soon as possible. Left unrepaired, they offer a way for bacteria to get inside teeth. If the inside of a tooth becomes infected, your only two treatment options are root canal therapy or an extraction. Leaving a tooth intact offers several advantages over removing it:
Faster and easier recovery
Little to no bleeding and minimal discomfort
Keeping surrounding teeth in their proper places
Avoiding the cost of a tooth replacement like an implant
Soothing Sedation Will Keep You Relaxed
Every procedure is different, and so are patients' reactions to it. The Fielder Park Dental team understands this, so we offer two soothing options for patients who wish to receive sedation:
Laughing gas (nitrous oxide) takes effect quickly and wears off without leaving you groggy, so you can drive yourself home after your procedure.
Oral sedation offers a deeper level of relaxation, so you'll need someone to drive you home. We'll help determine if this is a good option for you.
Unlike most dental practices, you'll pay no added charge for laughing gas!
For root canals in Arlington, call Fielder Park Dental at 817-275-4817 or schedule online.