Come See Us For Comprehensive Dental Care in Arlington
We'd love to be your dentist office of choice for all your smile care needs. Our entire team, including four dentists, is dedicated to providing our patients comprehensive dental care in Arlington so they can maintain beautiful smiles for life. We firmly believe you'll love your experience with us. Here are a few reasons why: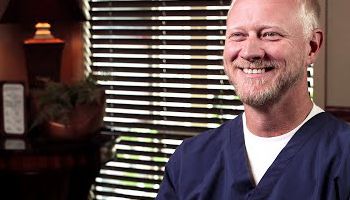 Image Title: Why Choose Us
We work to positively affect lives
Read Transcript
We work to positively affect lives
I think what sets us apart here at Fielder Park Dental is something that even starts with our mission statement. It's to positively impact lives professionally, clinically, and personally. We're more of a family here, in the staff we are, and I think our patients feel that. We try to take what could be an uncomfortable environment and make it as peaceful and comfortable as possible. It's not uncommon to hear people laughing at our office and that's not common in a dental office.
Our early morning hours work around your busy schedule.
We offer oral sedation and complimentary nitrous oxide (laughing gas) if you're nervous about your dental care.
We use advanced technology like electronic cavity detectors, digital X-rays, a 3-D CT scanner, and digital preview software.
You can take advantage of our flexible payment options, including CareCredit and our Executive Membership Plan.
Finally get the expert dental care you deserve. Call Fielder Park Dental today at 817-275-4817 to schedule your appointment. You'll find us on North Fielder Road, between West Randol Mill Road and West Sanford Street.
Keep Your Smile in Great Shape With High-Quality Dental Care
Our dental practice has been providing high-quality care in a comfortable environment since 1980. Over the decades, we've helped thousands of patients with their smile care. We'd love to add you to our dental family of happy, satisfied patients. We offer treatment no matter what your smile needs – from basic checkups to advanced dental implant procedures. Below are just a few of the services you can benefit from at our practice:
General Dentistry – Maintain a beautiful smile with routine checkups, gum disease treatment, and preventive treatments.
Cosmetic Dentistry – We offer dental veneers, teeth whitening, tooth bonding, the Chao Pinhole® Surgical Technique, and more.
Dental Implants – Replace your missing teeth with these prosthetic teeth roots and restorations. Smile confidently and eat with comfort again.
Dental Crowns and Bridges – These versatile restorations are used to repair and replace failing and missing teeth.
Invisalign Orthodontics – Straighten your smile in as few as 12 months with comfortable, clear teeth aligners.
Emergency Dentistry – Same-day appointments are available when you need help fast to get out of pain.
Oral Surgery – We can handle tooth extractions, bone grafts, sinus lifts, and gum grafts.
Choose Fielder Park Dental for comprehensive dental care in Arlington. Call us today at 817-275-4817 to schedule an appointment, or make one online.