We Take Relieving Dental Anxiety in Arlington Seriously
If you're nervous about coming to the dentist, the team at Fielder Park Dental completely understands. Many people come here in the same situation, but we can help. We're experts at relieving dental anxiety in Arlington, so you can feel confident seeing us for your dental care. Our compassionate and gentle treatment will help you: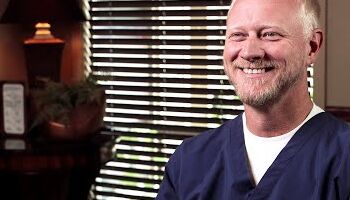 Image Title: Relieving Dental Anxiety
Warm care from the first phone call
Read Transcript
Warm care from the first phone call
Here at Fielder Park Dental, relieving dental anxiety is the objective of our entire office staff. It starts from the person that answers their very initial call, all the way through to the doctor that's providing treatment. A warm, friendly voice that's patient centered, focused on what the patient's concerns are, is a very first place that we try to alleviate anxiety. All the way through to when the patient arrives we have taken very good care of welcoming them and then bringing them out and making them feel like they're a part of the family, because in this office, they actually are once they're here.
When they come back to the back of the office to the treatment chairs, their anxiety level is already lower. Now, when I walk in the room, I understand it goes out a little bit, but then I try to use a friendly tone with them and try to help them feel like they're in control. They can say stop at any point. To me, it's more relational than it is any small, little pill we can give them or nitrous oxide. We can do those things, but to me, we can lower that anxiety level way before we ever get to that.
Get the routine dental care your smile needs to look its best
Help you avoid more extensive and costly dental work
Gain peace of mind about your oral health
Reduce your anxiety about future dental visits
Come in soon for the relaxing dental care you've been missing! Call us today at 817-275-4817 to schedule your appointment. You can choose either an early morning or late afternoon appointment if you like.
Relax & Leave Everything to Us
Our team works hard to create a warm and welcoming environment where every patient feels comfortable. Our practice is relationship-driven, meaning we strive to build authentic relationships with everyone who trusts us with their smile. We want you to feel like a member of our extended family.
We have TVs and several patient amenities on our comfort menu that will help you feel right at home. Our hope is that you'll forget all about dental care while you're relaxing in your semi-private room.
Our Comfort Menu & Sedation Options Ensure a Pleasant Experience
We know that some patients need a little extra help getting comfortable in the dental chair. Ask us how we can make your visit here more relaxing. We offer a comfort menu of services that includes complimentary nitrous oxide (laughing gas) and oral conscious sedation. Both options can help patients lie back comfortably while we tend to their smiles. We'll help you determine which one will work best for you. With oral sedation, you will need someone to drive you home and stay with you until the medication wears off as it may impair your motor skills. Nitrous oxide wears off almost immediately, however, so you can drive yourself home.
Be sure you visit the experts at relieving dental anxiety in Arlington. Call Fielder Park Dental today at 817-275-4817 to schedule an appointment, or make one online.