Restore Your Beautiful Smile With a Full-Mouth Reconstruction in Arlington
Our team loves giving our patients their smiles and confidence back. If you've suffered extensive dental wear or decay and you don't have any natural teeth left (or you have only a few), we can help you with a full-mouth rehabilitation in Arlington to improve your overall dental health. This comprehensive treatment can help you: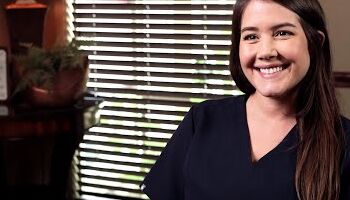 Image Title: Full-Mouth Reconstruction
Regain a beautiful healthy smile
Read Transcript
Regain a beautiful healthy smile
So for the patient who has several missing or decayed or broken teeth come into the dentist can be a little bit daunting, but there is a service called full mouth reconstruction that we offer that is able to give back the patient, all of the missing form and function that they've lost over the years. And essentially give them back that beautiful smile and that ability to chew and eat and use their teeth like they used to have in their younger years.
Smile with complete confidence that your teeth look great
Make better first impressions in your social life
Gain an edge in your professional life
Make your chewing and digestion more complete
Enjoy a boost in your overall self-esteem
Let us add you to our list of satisfied patients! Call Fielder Park Dental today at 817-275-4817 to schedule your consultation. For your convenience, we're open at 7 a.m. on weekdays.
Get the Details on a Full-Mouth Rehabilitation
While dentures are still a great option for many people without teeth, gone are the days when dentures were the only real choice to give you back a strong bite and beautiful smile. Today, dental implants often play a major role in restoring missing teeth.
These replacement teeth roots are placed in your jawbone by your dentist where they form a sturdy base for anchoring new artificial teeth. Not only will implant-secured teeth feel just like natural teeth, but implants have the added benefit of helping keep your jawbone healthy and strong, unlike conventional dentures.
When you come in for your initial appointment, we'll use a 3-D CT scanner to get an up-close look at the structure of your mouth, including the underlying bones and nerves. Depending on your situation, we will then have several ways we can use implants for your dental reconstruction:
Single Implants With Crowns – We'll use one crown per implant to restore your teeth.
Implant-Supported Bridges – This type of bridge anchors to at least two implants.
Implant-Secured Dentures – These dentures will stay put and won't shift around like conventional dentures can.
All-on-4® Dental Implants – Just four implants per arch will anchor a fixed row of teeth.
Revive your smile with a full-mouth reconstruction in Arlington. Call Fielder Park Dental today at 817-275-4817 to schedule a consultation, or make one online. New patients should ask about our implant special when they call.