Brighten a Dull Smile With Arlington Teeth Whitening
Over time, our once-radiant smiles can become victim to the foods and drinks we consume, leaving your teeth a dull yellow or gray. The good news is that you can do something about it. Arlington teeth whitening from Fielder Park Dental can return your smile to its former luster. Our treatment can: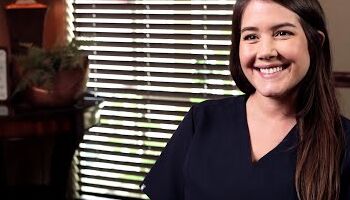 Image Title: Teeth Whitening
Get white teeth without the sensitivity
Read Transcript
Get white teeth without the sensitivity
In our office, we offer GLO whitening. The in-office whitening that we offer has minimal side effects. So a lot of people have seen over-the-counter whitening strips and whitening gels that you can buy at the store. The downside to those is they're pretty messy and they can cause pretty extreme tooth sensitivity. In our office, we use a special whitening technique called the GLO method, and we've seen wonderful results for our patients with just an hour or two treatment and they've had almost little to no sensitivity. So, our patients are pretty pleased with it.
Whiten your teeth quickly and safely
Restore your confidence in your smile
Help people notice your teeth for all the right reasons
Allow you to make better first impressions
Improve your overall self-esteem
Don't wait to get started on your whitening treatment. Call our office today at 817-275-4817 for a cosmetic dentistry consultation, and you'll be one step closer to a brilliant new smile. You'll find us located on North Fielder Road, underneath the water tower.
Enjoy a Beautiful Smile & Save Money at the Same Time
Fielder Park Dental is happy to offer at-home whitening treatment with Invisalign. When you complete your Invisalign treatment you'll receive custom-made whitening trays and professional-strength gel to use at home.
You'll get the time-tested benefits of this system without breaking the bank. What could be better? In just one office visit, GLO can lighten your teeth by up to eight shades. Our in-office treatment is a great choice if you have a special event coming up soon, like a wedding or reunion, and you'd like to improve your smile quickly.
If you want more flexibility with your teeth whitening treatment, we'll provide a set of custom-fit whitening trays and a concentrated whitening solution you can use at home. Wear the trays whenever you want – while watching TV, reading, or just lounging. In a matter of days, you'll achieve your desired level of whiteness and have loads of new confidence.
With either teeth whitening option, you'll get safer and more predictable results than you will from a box you buy off the shelf. Plus, our skilled and knowledgeable team will always be available to answer any questions you have about your treatment.
Are you ready to create your lustrous new smile? Call Fielder Park Dental today at 817-275-4817 to get started on your teeth whitening in Arlington. You can also make an appointment online.