Make Your Gums Like New With Gum Recession Treatment in Arlington
Like many of our patients, you may be suffering from receded gums. Not only can this condition be unsightly, but it can also create discomfort as well as bleeding when you brush, floss, or eat. Using the innovative Chao Pinhole® Surgical Technique, Dr. Chip Mercer can repair your gums and restore them to their former beauty. This revolutionary gum recession treatment in Arlington offers you all these benefits: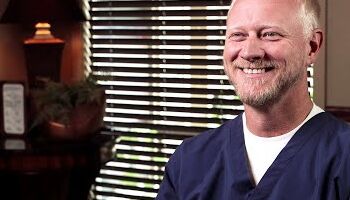 Image Title: Gum Recession Treatment
Easy car and quick reovery
Read Transcript
Easy car and quick reovery
So it's important for patients to have good gum health, because that's the foundation of it all. The most important part of the mouth is actually the part that holds the teeth in there. Doesn't matter how straight and white they are, if they're loose and painful, it's no use to the patient. So for us to go in and do treatment on the gums to prevent further recession, number one, and then to restore what was lost, provides the biggest benefit for the patient.
The pinhole surgical technique allows us to help gums that have experienced recession, and do a much less invasive technique where we're not taking tissue out of the roof of the mouth, and we're not having to do big incisions, and, typically, we're not even having to do sutures. We have the graft material that goes underneath there, and our patients are experiencing very mild, minimal postoperative complications or discomfort.
Minimized tooth sensitivity by restoring tissue on exposed tooth roots
Therapy without any cutting or stitches
Quick and comfortable treatment and healing
Less swelling afterward
Restored gums that look beautiful and natural
Dr. Mercer is one of only a few dentists in our area who is certified to perform this minimally invasive surgery for treating gum recession without the need for grafting or sutures. Don't suffer with receding gums any longer. Come see Fielder Park Dental for this beneficial treatment. Call us today at 817-275-4817 to schedule a consultation. You'll find us on North Fielder Road between West Randol Mill Road and West Sanford Street.
Count on Us For Comfortable Gum Repair
You can experience gum recession for several reasons. It could be because of gum disease, injury, genetics, or even brushing your teeth too hard. Whatever the reason, Dr. Mercer can help using the Chao Pinhole® Surgical Technique.
Rather than a traditional gum graft that takes tissue from the roof of your mouth and places it where you've lost gum tissue, this new technique uses just a tiny hole in your gums. Through the small opening, Dr. Mercer can use special instruments to gently manipulate healthy gum tissue so that it covers more of your teeth.
Treatment takes just a few minutes, and your healing time will be much quicker than with a gum graft. Best of all, there is no cutting or stitches involved – just a very small hole that will heal quickly. Our patients love this aspect of treatment because they can resume normal eating and drinking much sooner.
Wouldn't you love to have healthy, natural-looking gums again? You can with our gum recession treatment in Arlington. Call Fielder Park Dental today at 817-275-4817 to schedule an appointment, or schedule one online.