Enhance Your Smile With Cosmetic Dentistry in Arlington
Like many of our patients, you may be tired of living with a smile you're not pleased with. If looking in the mirror at your teeth makes you wince a little, the team at Fielder Park Dental would love to help you create a better-looking smile. We offer Arlington cosmetic dentistry that can allow you to: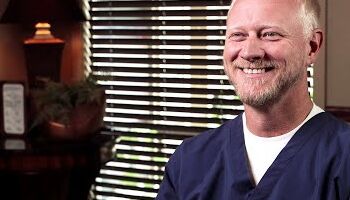 Image Title: Cosmetic Dentistry
Patient Centric Care
Read Transcript
Patient Centric Care
At Fielder Park Dental cosmetic dentistry starts with the consultation. We like to talk with the patient about what their concerns are, because it doesn't matter what we think is wrong or what needs to be fixed, the patient has to have a desire to have it fixed or to tell us what it is so that we know where we're going with their smile. We're trained as the professionals to be able to provide the services, but we have to be able to communicate that with patients. So if someone has a cosmetic concern or something they don't like about their smile, then we can take photos, do digital imaging, give them an example of what their smile could look like. We can take impressions and make models and show them what their smile can be like. And most importantly, we can tell them what other people have experienced and show them that, and take them from the start to the finish before they ever start. Then that way they have an idea of where we're headed.
Smile comfortably in public
Take pride in showing off your smile wherever you go
Make better first impressions in your social life
Earn more respect from your peers and coworkers
Make your romantic moments more enjoyable
Maintain good oral hygiene easier
Improve your self-esteem
Don't put off getting the smile you've dreamed about. Call Fielder Park Dental today at 817-275-4817 to schedule your consultation. We're open early at 7 a.m. every weekday.
Enjoy a Beautiful Smile With Our Cosmetic Dentistry Solutions
Over the years, our team has been able to help thousands of patients achieve beautiful smiles they could take pride in. Seeing a patient look at their new smile for the first time is one of the things that makes our work so rewarding. For this reason, we offer a wide selection of cosmetic dentistry treatments. We'll help you decide which ones are right for you, but your options could include:
Dental Veneers – Your dentist will bond thin pieces of material, usually made from porcelain, to the front of your teeth to instantly conceal chips, stains, pits, small gaps, and other tooth flaws.
Teeth Whitening – We offer both in-office treatment using the GLO system and at-home treatment with custom whitening trays. You take your pick to whiten your teeth on your terms.
Tooth Bonding – Tooth-colored composite resin can be used to repair your teeth and give you a beautiful smile in just one appointment. Bonding is affordable and works great on minor teeth flaws like gaps, worn teeth, chipped teeth, and deep stains.
Gum Recession Treatment – Dr. Mercer is certified to use the Chao Pinhole® Surgical Technique to repair your gums. He can get your gums back in shape without any cutting or stitches and with minimal healing time.
Invisalign – With this innovative orthodontic system, you can straighten your smile without any metal brackets or wires. Just wear the clear plastic teeth aligners as directed, and you could complete your treatment in as few as 12 months.
Teeth Contouring – Using special dental instruments, we can smooth out uneven tooth edges to give you a more attractive smile line. Just one appointment is usually needed for this quick and painless treatment.
Crown Lengthening – If you have teeth that appear too short, we can gently remove excess gum tissue to allow more of the crown (white part) of your teeth to show.
Smile Makeover – Your dentist will work hand in hand with you to design a treatment package combining several of our cosmetic dentistry services. We can even show you a digital preview or a wax-up of your new smile before you begin treatment.
No matter what your smile needs to make it shine, we have a treatment for you! Call Fielder Park Dental today to find out more about Arlington cosmetic dentistry and to schedule your appointment. You can also make an appointment online.