Restore Your Gum Health With Gum Disease Treatment in Arlington
Gum disease doesn't have to threaten your oral health. In fact, with gum disease treatment in Arlington, the dentists at Fielder Park Dental can renew your gum health and help keep your whole mouth healthy. Our nonsurgical gum treatment will also help you: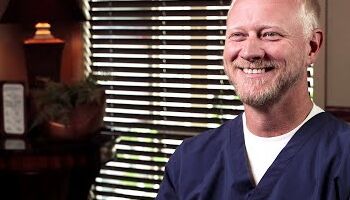 Image Title: Gum Disease Treatment
Proactive care
Read Transcript
Proactive care
Our practice works to help people have healthy gums. It's the foundation to what a smile is and we have a very talented team of dental hygienists here at our office that are very attuned to what it's required to keep gums healthy and to restore health in teeth that have disease and gums that have disease. We're very proactive in every hygiene visit in taking specific measurements to evaluate the gum tissue and then we provide recommendations based on that. Whether it's a limited treatment, no treatment or maybe even more advanced gum therapies. All of that is done through education and the patient's the driver in that situation. We just provide information and then try to help the patient achieve their goals.
Put an end to painful, bleeding gums
Make eating and brushing more comfortable
Gain confidence that your gums look great
Have peace of mind about your oral health
Prevent or manage related health problems, such as diabetes and heart disease
Call us today at 817-275-4817 to schedule your appointment for gum therapy as early as 7 a.m. We're on North Fielder Road underneath the water tower.
Gum Disease Can Sneak Up on You
Did you know that you could have early-stage gum disease and not even be aware of it? That's right – disease-causing bacteria can lurk beneath your gumline and begin to wreak havoc with no obvious signs. That's why it's so important to keep up with your routine checkups. Your dentist will check for signs of gum disease and recommend treatment accordingly if it is found.
The most common way to treat gum disease is through a nonsurgical process known as scaling and root planing. This "deep cleaning" will remove bacteria and help put your gums back on course. Here's what this process involves:
A local anesthetic will be used to numb the area we're working on. Oral sedation or complimentary nitrous oxide (laughing gas) is also available if you have any anxiety about your procedure.
We'll then use special dental instruments to scale (remove) bacteria, tartar, and plaque from around and beneath your gumline.
Next, we'll plane (smooth) your teeth roots to make it more difficult for bacteria to collect there.
Depending on your circumstances, this process may need to be repeated every few months to keep your gums healthy.
If you have experienced gum recession as a result of gum disease, we may also recommend the Chao Pinhole® Surgical Technique to restore your gumline. Dr. Mercer is one of only a few dentists in the area who can perform this minimally invasive surgery for treating gum recession. It will restore the tissue around your exposed tooth roots without gum grafting or sutures and help eliminate tooth sensitivity.
Don't put your smile and your oral health at risk. Schedule an appointment today for a dental exam so we can provide Arlington gum disease treatment if needed. Call Fielder Park Dental at 817-275-4817, or make an appointment online.