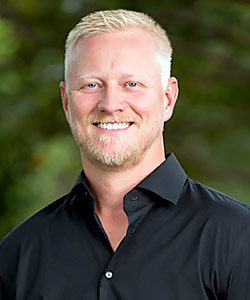 Read Transcript
I decided to get into dentistry because I knew I wanted to do something in healthcare, but I also enjoyed the autonomy of being in a small business as well. The ability to help people through, in this situation, the dental avenue is a great opportunity for me to fulfill both of those desires for me and help people. The most rewarding aspect of dentistry is helping people achieve things with their smile that they didn't know were possible. People that were afraid to smile because of missing teeth, or discolored teeth, or broken teeth, just overall self esteem issues due to that, for us to be able to go in, and within an appointment or two, make a difference and allow them to go out and attack the world with a new smile is really rewarding.
I began my dental career at the University of Texas Health Science Center in San Antonio. It was, at the time, the number one school in the nation, and so I feel very proud of that. It provided a really good, broad foundation for me in dentistry. It was a very strong familial atmosphere that helped set a foundation to where I felt comfortable going out on my own. But the number one thing they did was instill a desire to continue learning beyond that. It's kind of like they gave us the tools, and then once we got out, we had to learn how to use them.
Since then, we're avid continuing education participants. We go above and beyond what the state requires every year in order to be able to provide care for our patients. I've done continuing education in orthodontics, in implant dentistry, pinhole surgery, which is a gum rejuvenation treatment. I just always feel like there's some way that we can be better at what we do, and so I think education's the key to that.
Dr. Chip Mercer graduated magna cum laude from the University of Texas Health Science Center at San Antonio in 2002. After graduation, he practiced in Marshall, Texas for two years. In 2004, the Mercer family relocated to the Dallas-Fort Worth metroplex.
Dr. Mercer is a native of Irving and graduated from MacArthur High in 1993. He is a 1998 graduate of Lamar University, where he played baseball for the Cardinals and received a Bachelor of Science in biology. He spent one year in minor league baseball before beginning his dental career. Dr. Mercer has been married since 1998 and has two children. The Mercer family is involved in church, school, and athletic activities.
Dr. Mercer maintains numerous memberships in professional organizations. He is an active member of the Fort Worth District Dental Society, Texas Dental Association, American Dental Association, Academy of General Dentistry, American Academy of Cosmetic Dentistry, and International Congress of Oral Implantologists. He recently earned certification in the Chao Pinhole® Surgical Technique. He is also recognized as a Top Dentist by The Leading Physicians of the World.